Welcome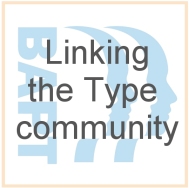 The British Association for Psychological Type (BAPT) is a non-profit body of individuals interested in broadening and deepening their understanding of people through the lens of Psychological Type and related concepts. We network to exchange ideas, hear about recent research, discuss applications and enjoy talking Type. We provide access to workshops, conferences, Type publications and networking events for all interested in learning more about Psychological Type. We are the link between the different Type communities.
This is a small charity run entirely by volunteers, and we welcome your help. You can help us in many ways:
> Become a member  > Volunteer  > Join the Board   > Advertise in TypeFace
> Come to the Conference  > Sponsor the Conference  > Do a Workshop  > Donate.
Why join BAPT?
Access to high profile speakers
Continuing professional development – whether you qualified years ago, or recently – there is always something to learn.
Receive our journal TypeFace and access to articles from sister organisations from around the world
Be included on the Registered Practitioner referrals list, if you choose to and are a qualified user
Discounts for conferences, seminars, type questionnaires
For group or corporate membership, please use the Contact page.
Whether you are a qualified user of the MBTI®, TDI®, JTI®, Golden®, Insights Discovery® or other personality type instrument, or simply interested in psychological type, joining BAPT will give you access to professional support and advice in all aspects of type and opportunities for professional development in your use of Type.
Psychological type is a vast area to explore and get to know, from the breadth of the possible applications of type to the depth of the dynamic theory.
There is always something new to discover!