18 June | 6-7 pm UK | peer supervision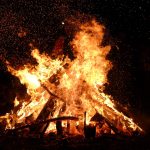 Do you as a Type practitioner ever have questions about how to present some aspect of type, or need help clarifying the difference between Ni and Ne for example, or wonder about how Interactions Styles might be able to help your clients be more clear about their types? Join us around the Co-Coaching Campfire as we chat and explore the issues we have together, and get insights from more experienced Type practitioners.
This is a structured session where practitioners can bring their Type work experiences to a peer group for reflective dialogue and collaborative learning, for the benefit of ourselves and our clients. For those of you who have a coaching or counselling qualification you will be familiar with the value and format of supervision, and likely peer supervision.
Maximum of SIX people per session via our Zoom meeting platform. The sessions will be chaired by Sarah Perrott, BAPT President. This is first-come, first-served – so if you're interested book your place ASAP. At the moment, each month is booked individually, so
Click Here to Register for June 18th
Non-members are welcome!
After registering, you will receive a confirmation email containing information about joining the meeting.
Make a note in your diary for future sessions, which will be:
If you are not a member of BAPT but would like to be, you can easily join through our online joining form – only £45 (£30 for students or retired) including our quarterly online magazine TypeFace. We have members from around the world, so you will be welcomed.
About the Chair
Sarah Perrott brings a passion for seeing people flourish and a career working within corporates and running her own business. She has worked within professional services firms, FTSE100 businesses, SMEs, NHS, National Charities, Public Sector and other diverse organisations.
Sarah has designed, developed and run transformational interventions and is accustomed with diverse clients and working in multi-cultural environments. These interventions have covered topics such as confidence, resilience, conflict, developing leadership stance, impact and influence and developing the authentic you. She regularly uses Type when working with teams, groups and individuals to develop effective behavioural change and achieve organisational and personal targets.
Sarah is currently the president of the British Association for Psychological Type (BAPT), having previously been involved with BAPT for over three years as membership secretary. Sarah is professionally qualified with the Chartered Institute Personnel Development (FCIPD), fully accredited with the British Psychological Society and is a certified NLP practitioner and a licensed HeartMath provider. She has a M.Sc. in Coaching and Behavioural Change from Henley Business School with the University of Reading and is a certified APECS accredited coach.